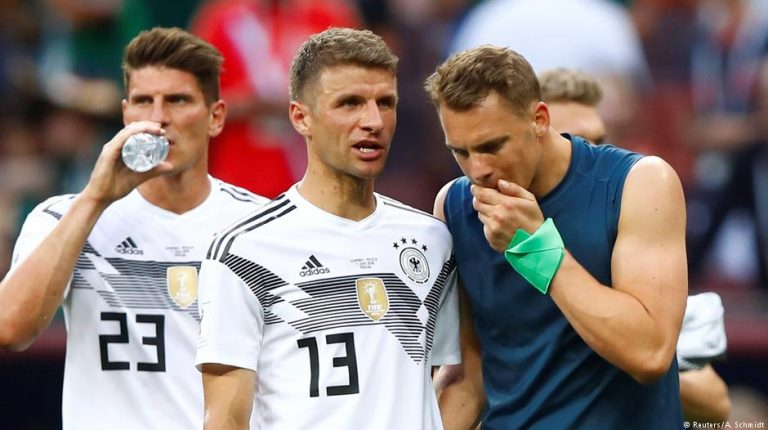 Germany's captain revealed on Tuesday that Germany's players have been doing a lot of talking to each other. This team must get better, but the most encouraging thing for Germany fans is that the players know it.Having been late to almost every ball in their opener against Mexico, it almost seemed fitting that Manuel Neuer was nearly an hour late to Germany's press conference on Tuesday. The reason for the Germany captain's tardy arrival though, was more telling.
"Sorry. We just had a team meeting that lasted a little longer than planned," Neuer said. "We are our own toughest critics and we are disappointed and angry over our performance against Mexico."
Since the defeat, Germany have closed the doors somewhat — a scheduled press conference with Philipp Lahm on Monday was scrapped and the team's training sessions have largely been recovery-focused. Even the sessions in front of the media have been limited to 15 minutes, which makes true impressions hard to come by.
"No one is shying away from responsibility. We talked about the game in the bus, and we talk at every meal. We say our opinion," Neuer said, bluntly.
Read more: Kevin Kuranyi: 'Joachim Löw must find the right words'
A lot of questions have been asked of this Germany team, both before the start of this tournament and after the shock defeat in their opening game. Now, they are asking questions of themselves.
"We lacked bravery, self-understanding and trust. Why, I don't know," Neuer said in a revealing press appearance. "We weren't ready and our body language wasn't right. The main cause was with the team leaders. We didn't have the readiness on the pitch to take control and organize things."
Time for leaders to rise
Perhaps in this case figures such as Per Mertesacker or Bastian Schweinsteiger are missing, but this team has leaders. They just need to take control.
It's worth adding that defending a World Cup title is also a lot harder than pursuing one. Perhaps Germany have underestimated that. In the last few months, they have often looked presumptuous at finding solutions. This team can presume no more.
Germany now need to recover in time for their second group game against Sweden on Saturday.
"The communication within the team has never been stronger than it was after the Mexico game," Neuer said. "Lots of players are getting involved. We believe we'll make the knockouts."
It's hard not to believe Neuer's positivity, especially because the captain could have fallen back on a host of template statements about what teams do when they're up against it. Instead, he delivered an insight into the reflective state this Germany team is in. In Sochi — a welcome change of scenery according to Neuer the team can show how good they really are.
"The first half against Mexico was a wake-up call. We don't need another one," Neuer said. If Germany need waking up again, then they'll only have themselves to blame.